Above and Beyond Award Winners
---
January 2015
Jason Norris receives an Above and Beyond Award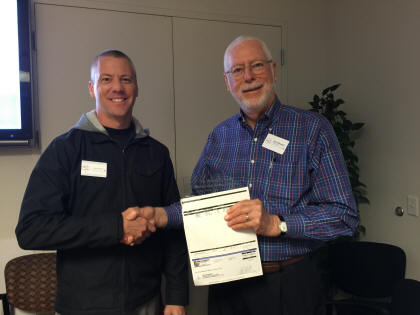 ---
January 2015
Billie Jean receives an Above and Beyond Award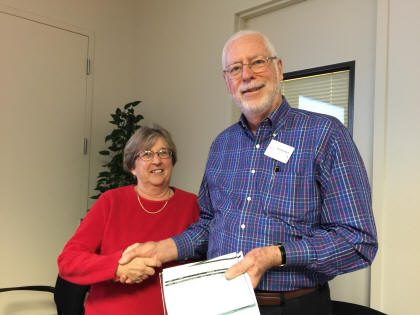 ---
December 2014
Sean Gebhard receives an Above and Beyond Award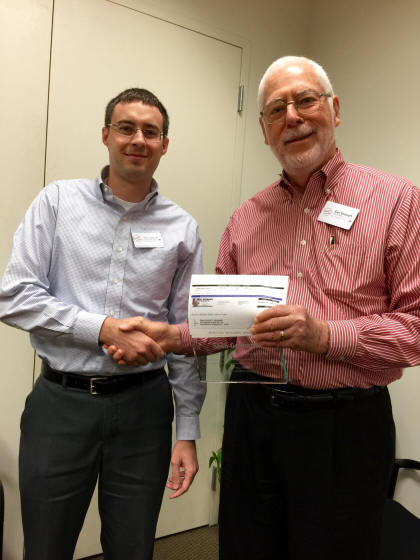 ---
December 2014
Steve Goldberg receives an Above and Beyond Award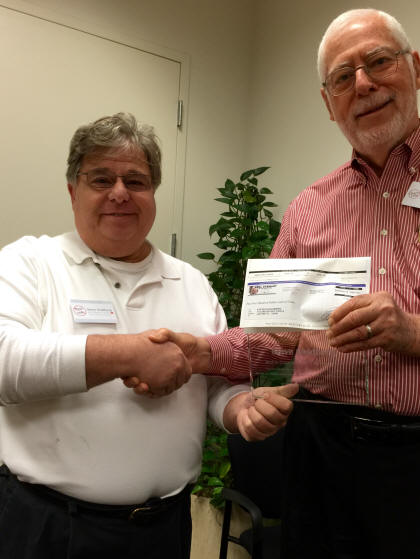 ---
December 2014
Will Neira receives an Above and Beyond Award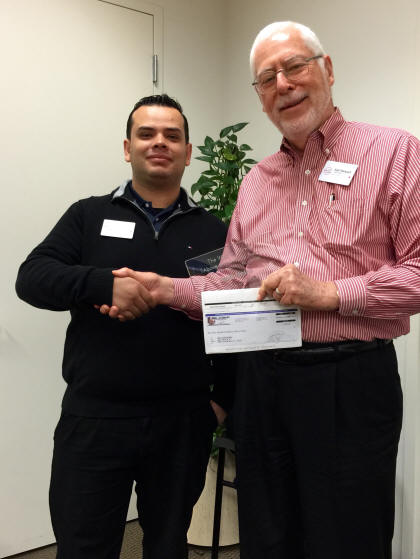 ---
October 2014
Scott Mandler receives an Above and Beyond Award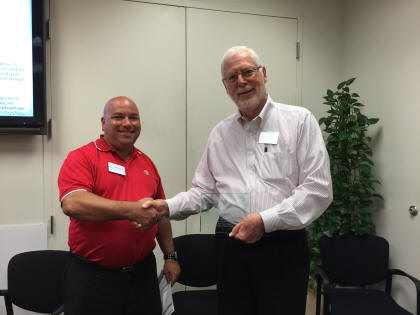 ---
October 2014
Jamie Drinkwater receives an Above and Beyond Award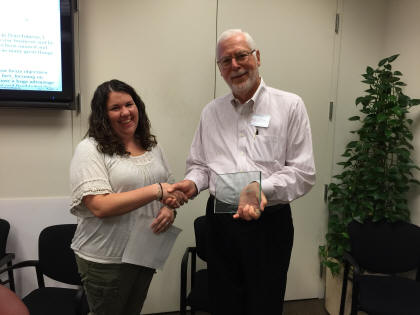 ---
October 2014
Allan Polsky receives an Above and Beyond Award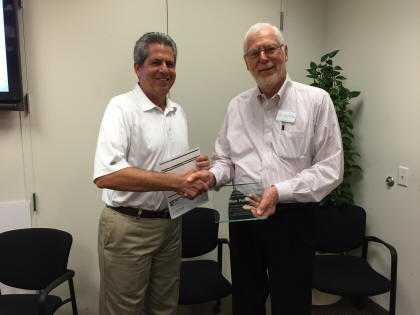 ---
August 2014
Allan Flores receives an Above and Beyond Award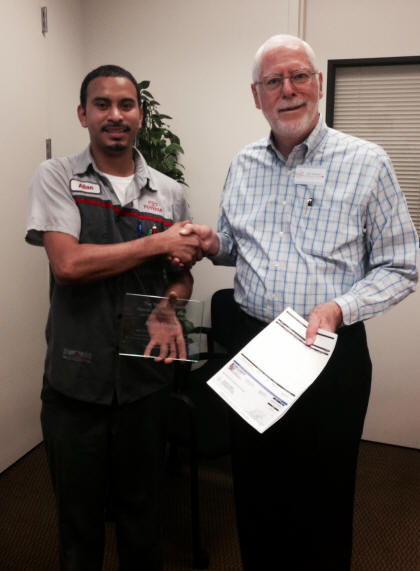 ---
August 2014
Kevin Middlebrook receives an Above and Beyond Award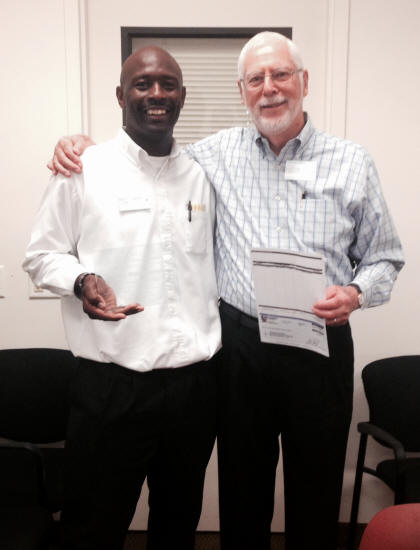 ---
August 2014
Billie Jean Pellet receives an Above and Beyond Award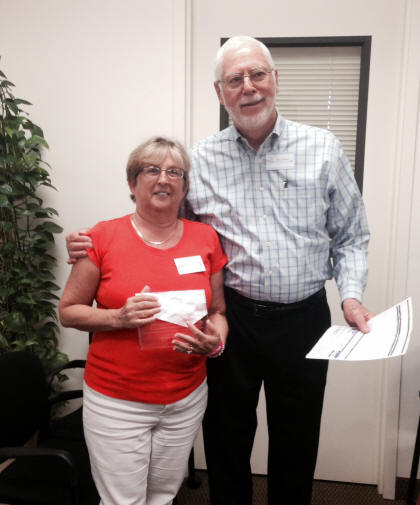 Billie Jean stops her work to handle customer questions or concerns, whether it's credit card, a question about the customer's bill, tag or registration, issuing a refund, or a referral. She also assists all employees without hesitation regarding benefits, payroll, bird dogs, and she has been seen in the service lanes moving vehicles from time to time. Billie Jean's hard work can be seen throughout the dealership, especially during month end close.
---
March 2014
Scott Mandler receives an Above and Beyond Award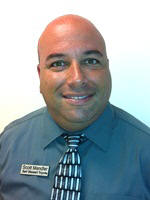 ---
---
July 17, 2013
Daniel Silva receives an Above and Beyond Award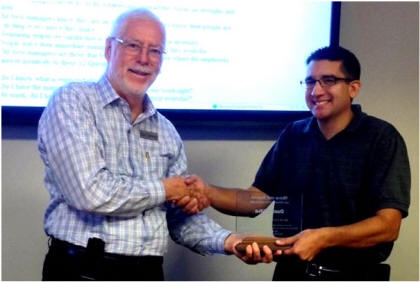 The Service Department is pleased to recognize Daniel Silva with the Above & Beyond Award. Daniel works for SET as a Field Technical Specialist. Recently we had a very problematic vehicle we were trying to repair. We tapped into all the sources we could, but everyone had given up. As a last ditch effort, we reached out to Daniel. He immediately answered his cell phone, as he always does, and began researching the strange issue that was occurring to our customer's vehicle. The next morning we were surprised to find him at our door step first thing in the morning willing to see the issue first hand. He rolled up his sleeves and worked side-by-side with us all day testing and trying many things we would have never thought of. Daniel has always been there for us, but his attention to this very unique issue we were facing placed him a special category of being nominated for the Above & Beyond Award. It should be noted that Daniel is the first receipt of the award as someone that is not an employee at Earl Stewart Toyota. His commitment, passion and understanding of our organization is spot on. He truly "gets it" by just naturally conducting himself through the Earl Stewart Code. We cannot thank him enough for his love for the customer!!
---
May, 2013
Shawn Mirabelli receives an Above and Beyond Award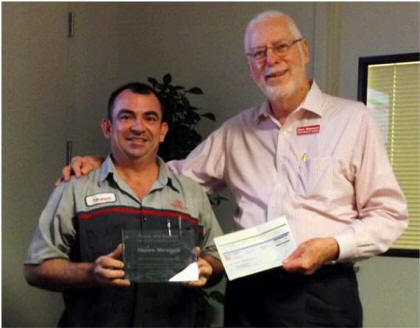 Shawn Mirabelli is the latest recipient of the Above & Beyond Award. He recently assisted a Lexus customer in need well after the Service Department was closed. We have all experienced retail outlets not assisting their customers and saying, "sorry we are closed." Shawn demonstrated, without a second thought, how if a customer is in need we are always there for them 24/7. Shawn is always a team player and is always willing to go the extra mile. As you can image, the customer he assisted was blown away and is truly a "raving customer" that is telling his story to everyone he knows and making the Earl Stewart Toyota name shine. Be sure to congratulate Shawn on this well deserved award.
---
May 21, 2013
Allan, Joel & Bruce receive an Above and Beyond Award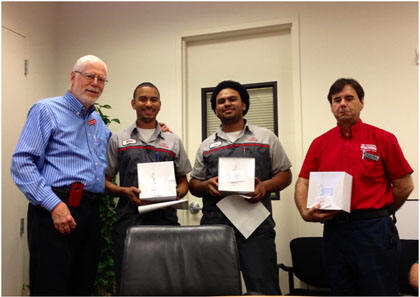 Please read below
By Wendy Smith: "So I am leaving last night at around 8pm and I stumble upon three (3) employees going crazy above and beyond. The two (2) rear ends are Allan Flores and Bruce Taylor. The guy moving so fast he is blurred is Joel Flores. Just next to us a charter bus driver misjudged a drive way and the rear of the bus settled on the assault causing the rear wheels of the bus to lift off the ground. The bus was stuck half way down the drive way and half way in the street. This scene caught their eye and they did not hesitate to come back to the shop and pull together scraps and some equipment to engineer a super creative way to get the bus free. After drenching themselves in sweat...they did it! I am so proud to work with a team that is so darn talented and just beyond in their caring of mankind. What a great presence their efforts reflect on us in the local community."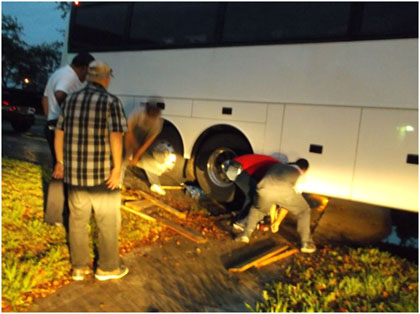 ---
May 21, 2013
Ted receives Above and Beyond Award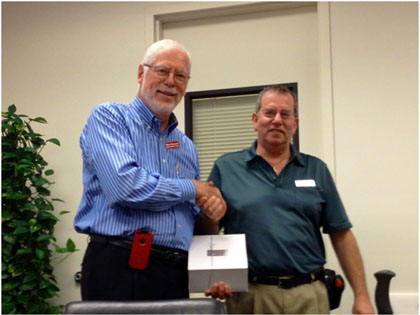 Ted spent his Easter Sunday at the dealership to make sure that the Business Office Cameras would be operational for the following Monday. After several hours all of them were moved, up and running. He also saved the company many thousands of dollars on the purchase of the cameras as well.
---
Andy Leet receives Above and Beyond Award
Earl Stewart Toyota is proud to be partnered with the Palm Beach County chapter of Meal on Wheels. This important charitable organization provides healthy, home-delivered meals to those in need. Andy Leet selflessly agreed to head up and organize our volunteer effort. He has set up and administered our volunteer calendar. On many occasions he has filled in when his co-workers have been unable to fulfill their duties. He has done all of this without being asked and always with a smile and great attitude.
1/12/2013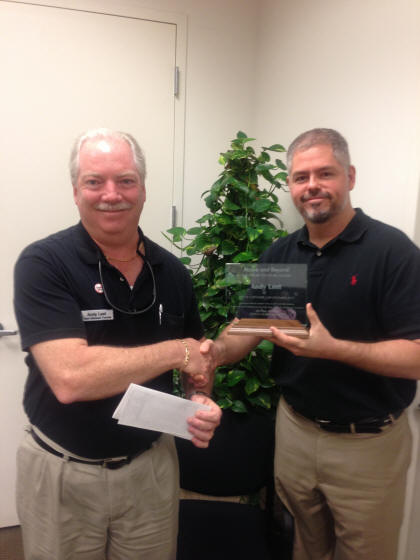 ---
James Owens receives Above and Beyond Award
On December 11th, Earl Stewart Toyota hosted its New Owner's Appreciation Event. Over 300 new customers attended to enjoy a wonderful catered dinner and to learn a little about servicing their new vehicles. Just as the event was ending, a severe thunderstorm blew through the area and pummeled the dealership with an extremely heavy downpour. Without anyone asking him to do so, sales associate James Owens began offering customers to run out in the rain and bring their cars to them under the covered service drive. Within seconds, James was drenched – soaked to the bone, but he kept valeting cars for our newest customers. The other sales associates on duty saw James' heroic efforts and joined him. Earl Stewart recognizes acts like this by awarding the Above & Beyond Award, and this month, James Owen's is a most deserving recipient!
1/9/2013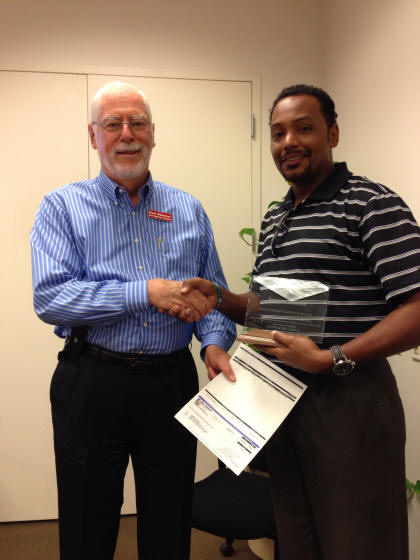 ---
Joel Flores receives Above and Beyond Award
Earl Stewart Toyota is honored to recognize Joel Flores with the Above & Beyond Award. Late one evening Joel was closing up the shop when he was made aware of an emergency situation with a customer who recently was in for service. Joel did not hesitate, for even a second, and immediately grabbed some essential tools and headed out directly to the customer's home. The customer was amazed by Earl Stewart Toyota's responsiveness, even way into the night. Joel's above and beyond attitude made a very concerning situation into an extremely positive experience for the customer. The bottom line is Joel saved the day for the Service Department and Earl Stewart Toyota. Be sure to say congratulations to Joel on his award…he earned it, big time!
08/23/2012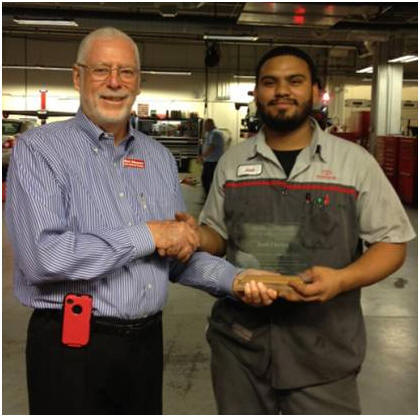 ---
Jorge Rocha receives Above and Beyond Award


Earl Stewart Toyota is honored to recognize Jorge Roche with the Above & Beyond Award. Jorge, who works in the Service Department as a technician, was recently getting lunch at a nearby shopping plaza when he observed a Toyota owner having trouble getting their car started. He approached them and offered his assistance. After his good Samaritan deed the phones lit up and the customer passed on their story, and how greatly appreciative they were. The jester captures the Earl Stewart Toyota magic and is a reflection of how Jorge conducts himself each day while at the dealership and on his personal time. Be sure to say congratulations to Jorge on his award.
08/22/2012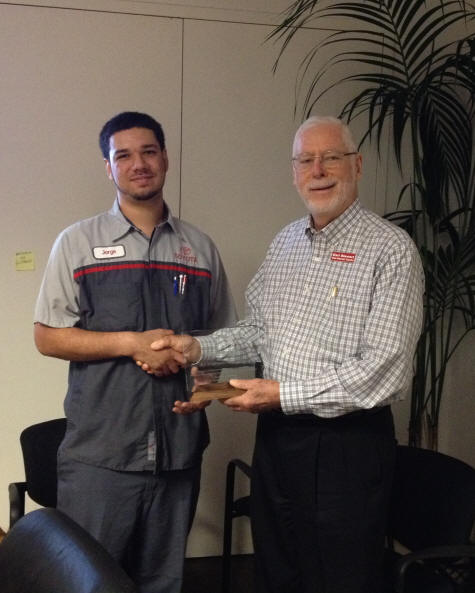 ---
Jerry O'Brien receives Above and Beyond Award
5/15/2012
Jerry has been with Earl Stewart Toyota since 1994 (18 years)! Day in and day out he goes above and beyond with his dedication to all of the core qualities the dealership was founded on. No matter what the task is he always reflects a "can do" attitude, while never asking for anything in return. He is one of the hardest working, loyal, flexible and committed individuals within the service team. His nickname is the "Energizer Bunny" for his speed and consistency. Currently he oversees the lube technicians (dispatching/training) and is the point person in our industry leading digital alignment check process. We are honored to work with him and proud to have him on our team. Be sure to try and catch him in the lube bays to say congratulations.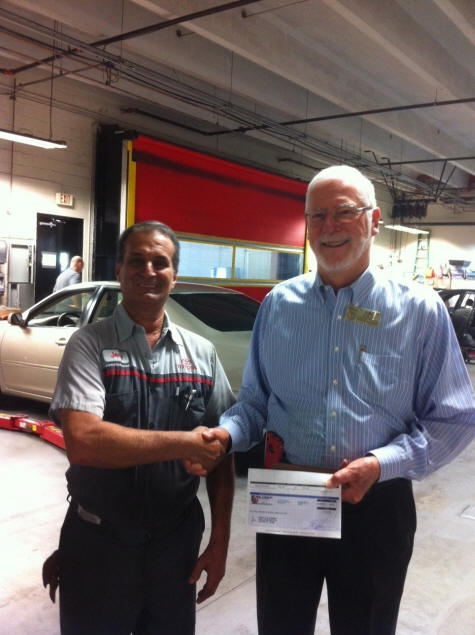 ---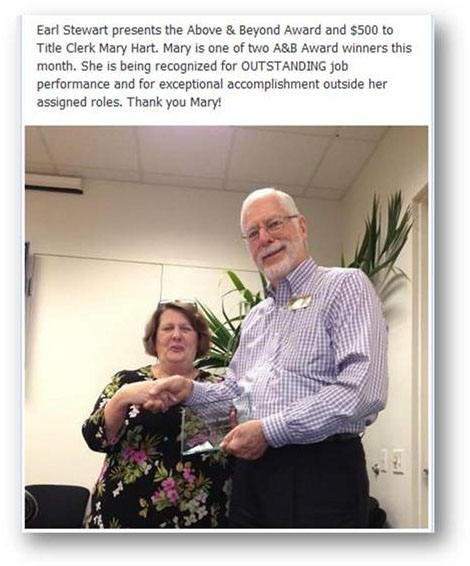 ---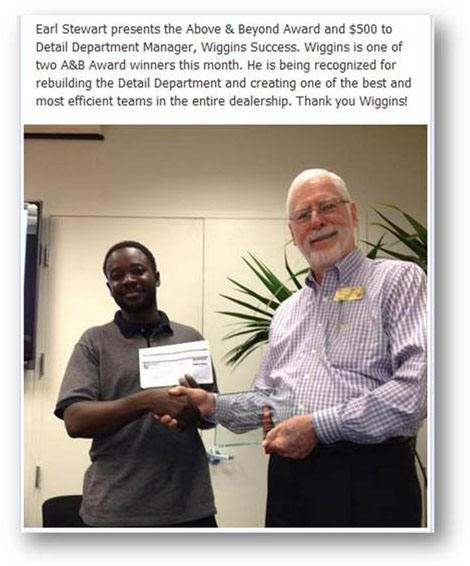 ---
4-27-2011
Kevin Middlebrook receives Above and Beyond Award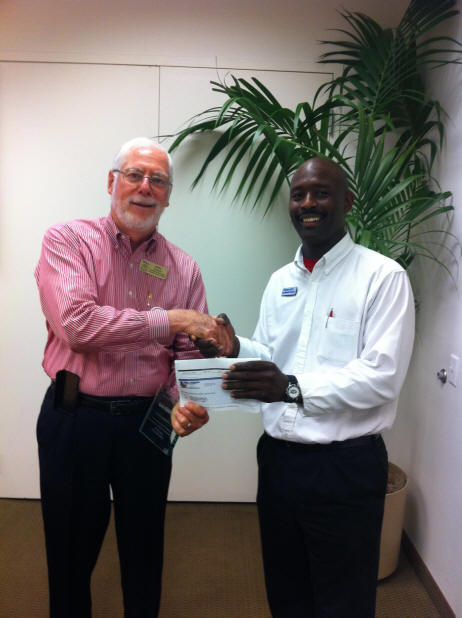 Congratulations "Superman" Kevin!
---
4-6-2011
Jim Starz receives Above and Beyond Award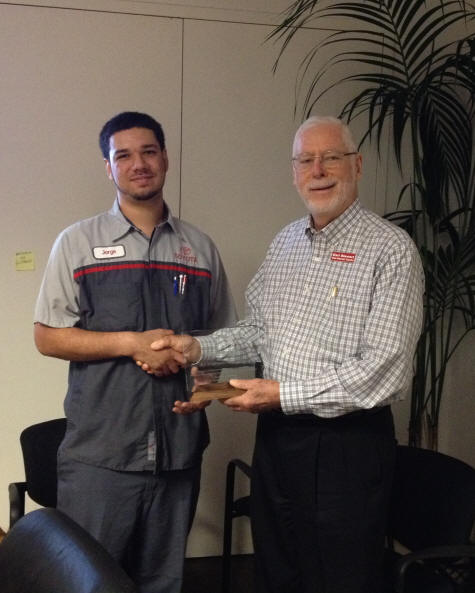 Congratulations Jim!
---

10-27-2010
Mark Karta receives Above and Beyond Award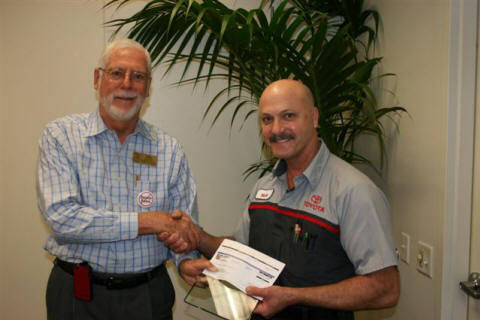 Congratulations Mark!
---
10-27-2010
Tona Draughon receives Above and Beyond Award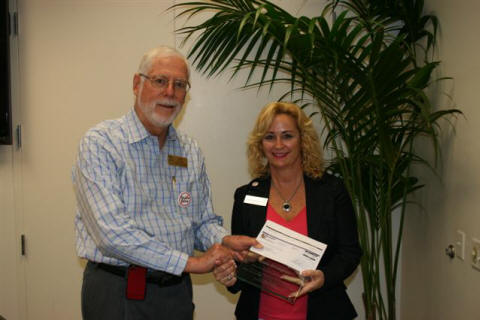 Congratulations Tona!
---

10-27-2010
Joseph Frader receives Above and Beyond Award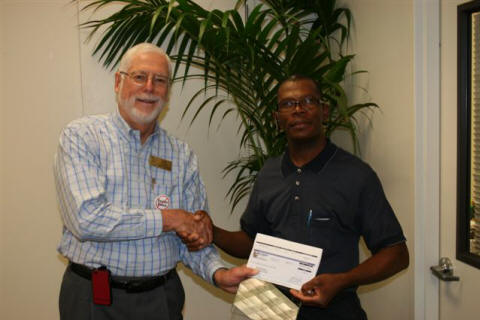 Congratulations Joseph!

---
10-27-2010
Kevin Middlebrook receives Above and Beyond Award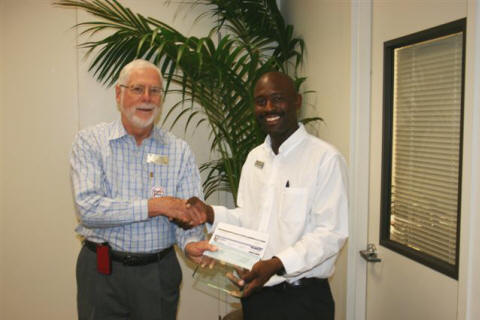 Congratulations Kevin!

---
Diana Kreek receives Above and Beyond Award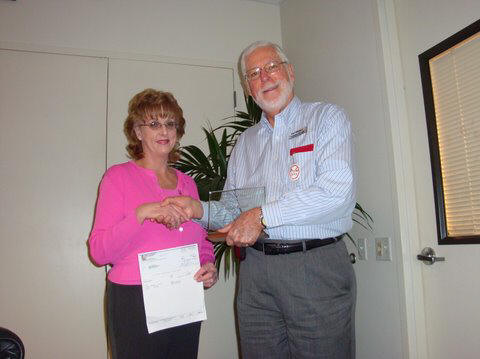 Congratulations Diana!
---

Jeff Dallin receives Above and Beyond Award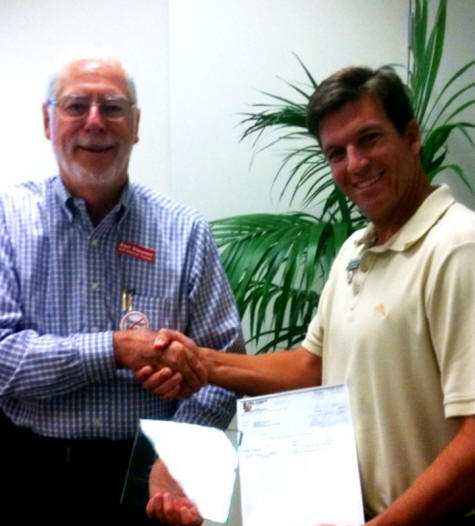 Sometimes a man will choose the time and sometimes time will choose the man. Jeff Dallin did not sign up to become the central figure of Clunkermania at Earl Stewart Toyota, but he was anointed the Clunker King before the bedlam subsided. As the tide of history swept up and consumed all that lay in its path, Jeff nimbly rode the crest of that wave as effortlessly as he tackles the swells any given weekend on his longboard.
If this was any other dealership, the used car manager would not be expected to do double, triple, or quadruple duty; but this is not any other dealership. The Cash for Clunkers law stipulated that the dealer need only provide his "best estimate" of the clunkers' salvage value and was permitted to keep $50 for "administrative purposes". At most dealerships, this meant the "best estimate" was $50 and – surprise – the dealership kept that for "administrative purposes" ("sorry Mr. Customer"). At Earl Stewart Toyota, it was decided that the customer would be given the full amount of the true salvage value of his/her clunker less the $50 allowed by law. Although Jeff did not know it at the time, but that decision would result in the longest, hottest, and most difficult days of his career. In order to provide the customers with a salvage value, Jeff would need to call a salvage yard before a deal was made. To provide customers with a true salvage value, Jeff would have to call multiple salvage yards to get the highest bids for our customers. He would have to do a complete appraisal on each and every one. He would do this on top of the hundred or so appraisal he already does every month.
This formula by itself was not necessarily a recipe for chaos, but when you factor in the utterly unexpected, historically huge response to the clunker program, it was Car-mageddon! Jeff's normal 50 hour work week suddenly became a 90 hour work week in the 90 degree heat of August 2009. Jeff's an athletic guy – an avid surfer and snow skier who frequents the gym – but this time his physical limitations were put to the test. Earl Stewart would do 286 clunker deals when all was said and done; a monumental figure. However, you have to realize that figure does not count the dozens of appraisals that did not become deals. Jeff was all over each and every one.
Jeff became Mr. Cool (with a name tag to prove it) when it was noticed that despite the sweat, despite the grungy clunkers with no air conditioning, despite the clamoring sales people and customers, and despite the anxiety that the entire program could be cancelled without notice, Jeff Dallin kept his serene demeanor intact – with a smile. He kept it cool.
The most remarkable aspect of the whole story is this: Jeff Dallin did all of this knowing that none of it would benefit him personally. Jeff Dallin is compensated based on the profitability of Earl Stewart Toyota's used car department. The Cash for Clunkers program was a new car program that effectively dried up the used car business during that period: that did not slow Jeff down one bit.
Because of his dedication and unparalleled commitment to teamwork, Jeff Dallin was awarded Earl Stewart Toyota's Above and Beyond Award. Normally this is reserved for excellence in customer care. The award is represented by a crystal plaque the quotes former Toyota president Jim Press: "
The way you treat the customer when you do not owe them anything, like how you treat somebody who cannot fight back—that is the ultimate test of character". Rarely, and in the most unique situations, the award is given for service that transcends normal definitions. Jeff Dallin's case is one of those.
Congratulations Jeff!
---

Mike Baron receives another Above and Beyond Award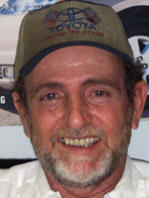 Mike Baron is the recipient of the Above and Beyond Award for taking action outside the realm of facility maintenance which saved the company over $7000. He uncovered a mistake in our FP&L which lead to the enormous credit. Mike has also spent countless hours in a quest to recover funds and receive compensation for the faulty site lighting across dealership property.
Congratulations Mike!
---
Ed Osborne receives Above and Beyond Award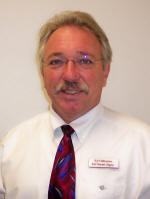 Ed Osborne
truly cares for his fellow associates and shows this on a daily basis. Ed went Above and Beyond during the hot summer months this year. Business was a little slow and the weather was hot,
Ed saw this as a perfect time to coordinate Saturday barbeques for the sales staff. Ed went shopping for the food, set up the grill and cooked for hours in the 95 degree heat, not stopping until he was sure that everyone had eaten. Ed's only reward for all of this work was the smiles that he saw on his fellow associates faces while they were enjoying the delicious food.
Congratulations Ed!
---

Michael Lloyd receives his second Above and Beyond Award


Congratulations Michael!
---

Patrick Myers receives Above and Beyond Award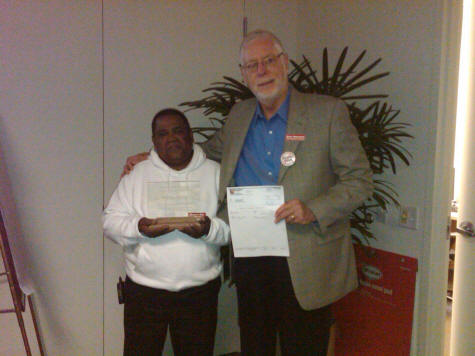 Congratulations Patrick!
---
Keith Hamill receives Above and Beyond Award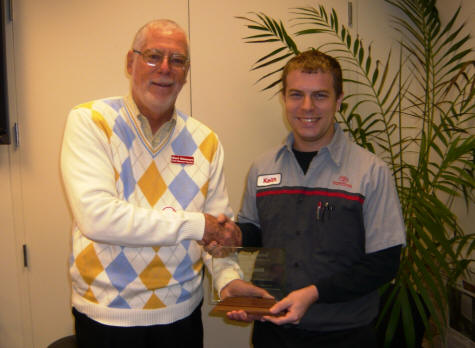 Keith Hamill has consistently demonstrated a dedication and commitment to this dealership that is far beyond his job description. One instance in particular took place late one Saturday afternoon. A couple that had recently purchased two vehicle's from us were having technical difficulties with both of their car's Bluetooth systems. Without having a repair order open (and thus with no monetary compensation) Keith donated a great deal of his own time and thoroughly went over the high tech features of both vehicles. He did so of his own good nature. When most would have shrugged and tried to pawn off the duty, he showed the patience of a saint and helped make two more Customers for Life.
---
Adam Matz receives Above and Beyond Award
On Friday evening our customer Joan Fisher had to be towed in from I-95 after she hit debris in the road and lost her brakes. She arrived at 7:00 pm and was of course very upset after this incident, after I greeted her along with our Technician Adam Matz we found out she has another vehicle at home but could not arrange a ride home. She lives in Palm City. Adam stepped up and told her " no problem I'll drive you home". He made a bad situation into a great one. I would like congratulate Adam for making her our customer for life.
---
Rick Kearney receives Above and Beyond Award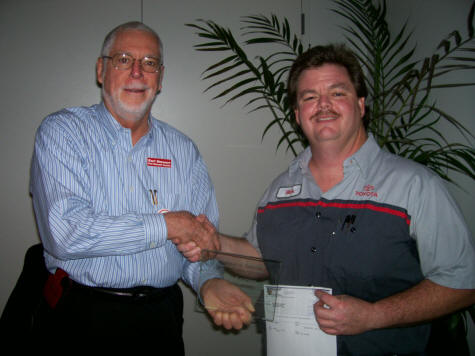 Rick Kearney has taken on the First Responded Course task and looks forward to putting on the classes that will involve 100 or so Palm Beach County employees. His enthusiasm is infectious and I believe we will be the talk of the town, if not the county, due to his efforts. Rick's efforts include the research on the subject, scheduling in event, getting printing bids and last but not least volunteering to put the handout booklets together himself to cut booklet costs by 50%. When added to his New Owner event and Kaizen Team efforts I can not think of another employee who participates more.
---
David Silverstein receives Above and Beyond Award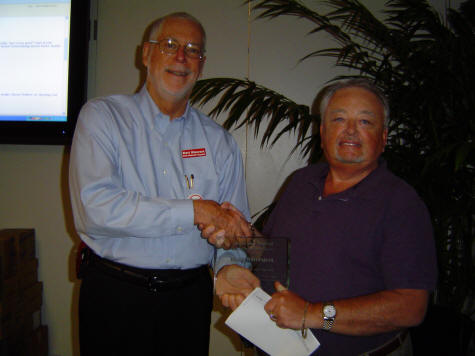 David received an Above and Beyond award in July 2008. Full details to follow soon.
Congratulations David!
---
Michael Lloyd receives Above and Beyond Award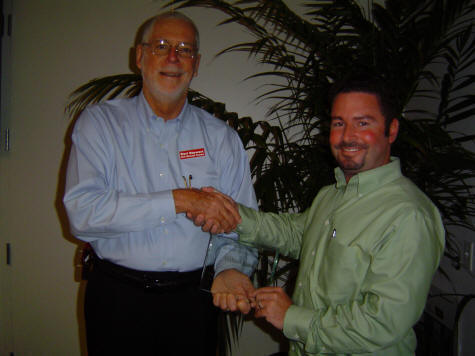 Michael received an Above and Beyond award in July 2008. Full details to follow soon.
Congratulations Michael!
---
Mike Urquhart receives Above and Beyond Award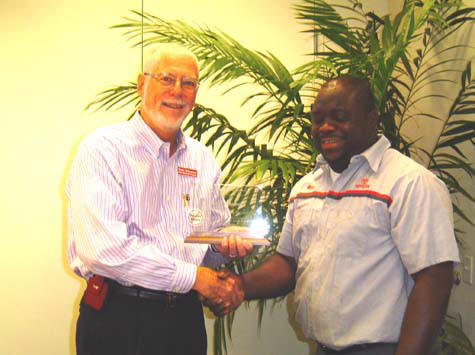 Mike received an Above and Beyond in 2008.
Last Thursday, an hour after the service department had closed. I was approached by an elderly gentleman in our customer lounge. He was very concerned because the tire pressure sensor indicator light had just come on as he and his wife drove down US1. He said his tires looked okay, but he was worried that he had a slow leak in one of his tires. I excused myself to go into the shop to find a tire pressure gauge. There, I found Mike Urquhart working in his bay. I asked if he had a tire pressure gauge, but he offered to come out and take care of it himself. He greeted the couple and asked if he could put their car on the lift to check everything out. He proceeded to investigate, on his own time, and found out that there was a computer code indicating a faulty tire pressure sensor. He made arrangements with the couple for a service appointment to take care of the problem. Throughout, he demonstrated his superb customer relation skills as he assured the couple that everything would work out fine for them. Mike did not get paid to do this; he was supposed to be home at the time. He did it out of the genuine concern he felt for people in need. For this he deserves the recognition of the Earl Stewart Toyota Above and Beyond Award.
---
Sandy Valenti receives Above and Beyond Award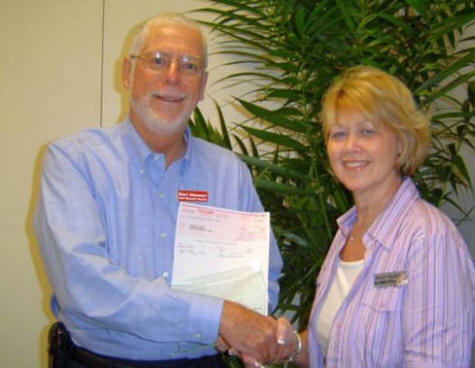 Sandy received an Above and Beyond award on 3-12-2008.
Sandy Valenti is not your ordinary telephone operator/receptionist. Without ever being asked, Sandi has essentially created a Guest Reception Department. She greets every customer with a warm smile and acts like the dealership's "air-traffic controller". Sandi took it upon herself to organize our new vehicle brochures and manage their distribution. She is acting office-supply manager, making sure the sales department has adequate printer and copy paper, key rings and tags, sold signs, etc… She organizes schedules for managers and sales people and is the "go-to" person when someone needs to be found. She also manages our phone prospect system for sales. Sandy deserves the Above & Beyond Award for everything she does without being asked.
---
Glenn Ballard receives Above and Beyond Award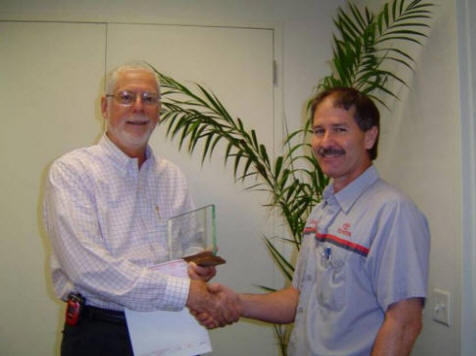 Glenn received an Above and Beyond award on 2-6-2008.
Glenn was nominated for his ongoing, consistent service and support to the whole dealership. His work with us over the past 29 years and his progression through various roles up to his current position as Shop Foreman and Master Diagnostic Technician are impressive. Simply put, Glenn makes the shop. He is always willing to stop and address concerns brought to him by service, parts, the body shop and sales. He is dependable, honest and fair in our employees, customers and the factory. Glenn is an all-around nice guy and a pleasure to work with. He truly is one of a kind.
---
Bruce Taylor receives Above and Beyond Award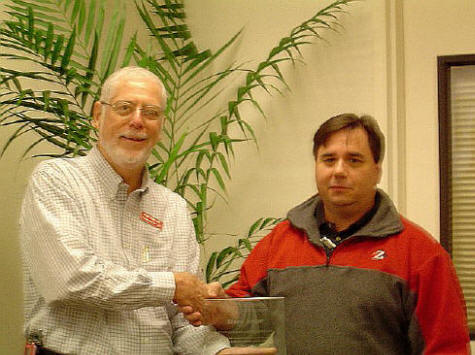 Bruce Taylor was nominated by Tim Case. Bruce has repeatedly gone offsite and out of his way to help many customers. Whether they need a key to get in their car or a new battery, Bruce has answered this call on multiple occasions. Bruce's generosity has been felt, not only by our customers, but by fellow employees as well. He does so with the utmost modesty and no desire for accolades or extra-compensation.
---
Mike Baron receives Above and Beyond Award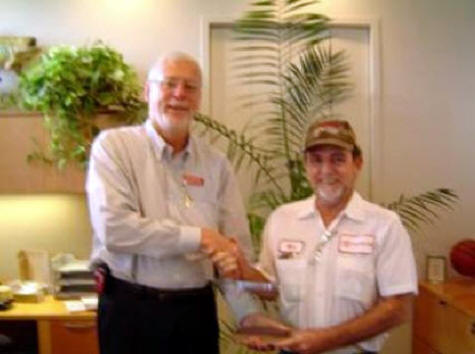 Mike Baron was nominated by Dave Duffel. Mike has saved the company lots of money on items such as light bulbs. He replaced all our fluorescent lights with energy saving bulbs and the savings are ongoing. He maintains the dealership in an exemplary manner and can be counted on to quickly address and correct any maintenance problems that come up. He and his crew reliably set up, serve drinks, and cleanup the New Owners Events. Mike is a long term employee who continues to perform in an outstanding manner.
---
Rick Kearney receives Above and Beyond Award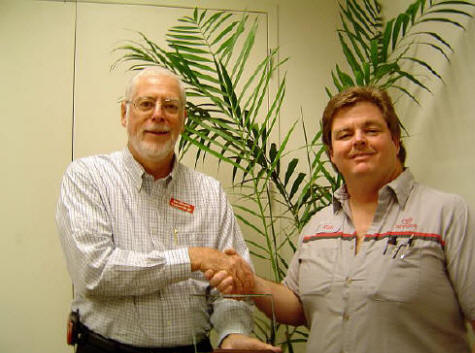 Rick Kearney was nominated by Paul Nys for his extra effort with a smile. On numerous occasions Rick has gladly answered the call for offsite service and, in doing such, has helped us earn many customers for life. On a daily basis, our dealership requests Rick's help with a wide variety of technical challenges and he is there for us without fail. Rick is also an essential fixture at our New Owner's Events and company Christmas Parties.
---
Jolinda Smith receives Above and Beyond Award again!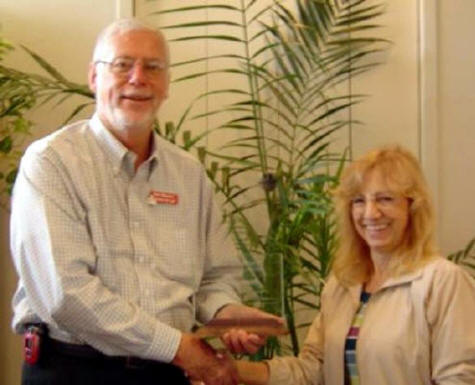 Jolinda Smith was nominated by Janet Goetz. Jolinda is known dealership-wide for her great attitude and her generous cooperation with all departments. She is affectionately nicknamed "Ms. Reynolds & Reynolds" by Mr. Stewart and never hesitates to personally assist anyone who needs help with that system. She is a well-rounded and multi-talented employee who never backs down from any task that comes her way. This is the second time Jolinda has received this award!
---
Dale Cook receives Above and Beyond Award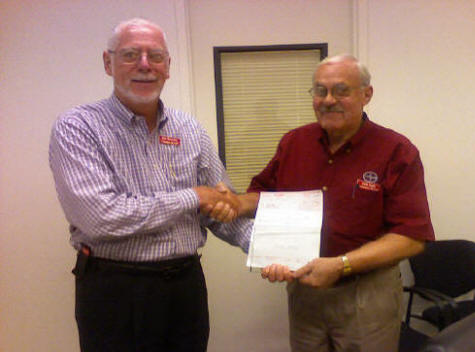 ---
Janet Goetz receives Above and Beyond Award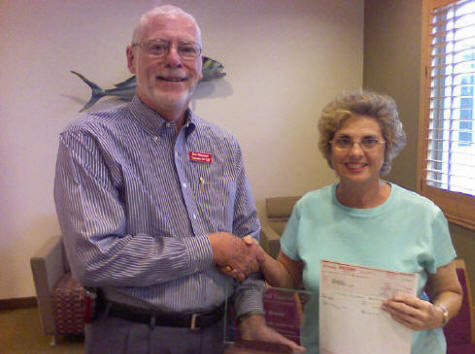 I would like to nominate an unsung hero, Janet Goetz. She always does what is expected but we never know the things she does "behind the scenes". Last week I hesitantly call her at home during rehab because we were having trouble getting a wire transfer verified and the customer, even though he had dropped the ball, was threatening cancellation. Janet took the information called both banks and got it handled in a matter of minutes. Never once complain about being disturbed during the middle of a physical therapy session.
---
Charl Schuld receives Above and Beyond Award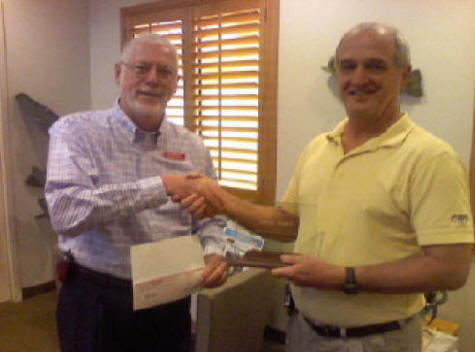 When Mr. Davis found out that the Prius can run out of gas Charl explained to him that the reason that he was stuck in Hobe Sound at the side of the road was the fact that when the light flashes you do need to add gas. Rather than telling him what most salesmen would ,"walk to a gas station and borrow a gas can" Charl grabbed a gas can from Tracy jumped in his car and raced to Hobe Sound and put gas in Mr. Davis' car, for which he was most appreciative.
---
Max Nugent, Bob Warshaw and Anthony Monas receive Above and Beyond Awards.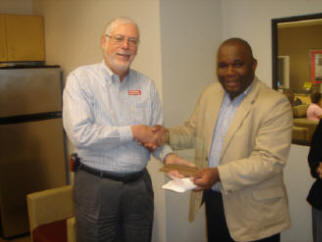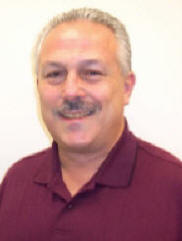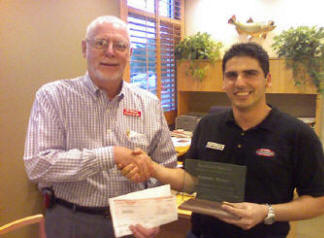 Alice (did not get her last name) came in for a prearranged, after-hours service pick-up around 8 o'clock. Bob Warshaw walked her out to her recently purchased Avalon only to discover it was blocked in by another service car. He came to get me and I began to search for the keys to the offending vehicle. After looking in every reasonably possible place I could not locate the keys. As I was contemplating what to tell Alice, Max Nugent, Anthony Monas, and Bob Warshaw came marching out to the service parking area. With their bare hands, they lifted the blocking vehicle and moved it far enough for Alice to drive her car out. Alice was astonished and she said (and I quote) "Ain't no amount of advertising can top that! That's what I call customer service!"
---
Jolinda Smith receives Above and Beyond Award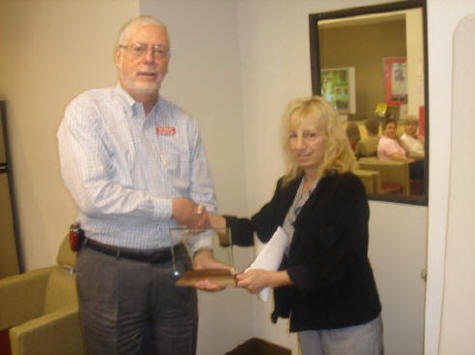 Please recognize Jolinda Smith as a member of the "Above and Beyond" team. In addition to the countless time she takes the time from extremely busy schedule to repair, reboot, etc, etc all of the Reynolds & Reynolds equipment in our dealership she made all of the arrangements with Reynolds & Reynolds, Jeff Blum, Randy Wallin and others to install a vital update on the R & R server. This update required a complete time consuming shut-down which had to be done after hours because there could be absolutely no users logged on. She took it upon herself to come to the dealership at 7:00PM Saturday night after closing to do the install. The install took over 3 hours and Jolinda did not get out of the dealership until about 10:45PM Saturday night.
---